Have you ever played a game of Commander/EDH that was so tense, it felt like someone was going to flip the table at any moment? Magic: the Gathering is supposed to be a game, but when you're playing with a particularly competitive group, it can seem like people forget that fact. (Not that there's anything wrong with being competitive!)
Too many people spend time looking for the strongest and the best cards without considering which ones will be the most fun. In this list, we're going to do exactly that: compile a bunch of Commanders that we feel would be a blast to build decks with.
We can't guarantee that using these Commanders will defuse any tension at your table, but chances are, you'll love using them, anyway – regardless of whether you win.
Most Fun Commanders in MTG
Experiment Kraj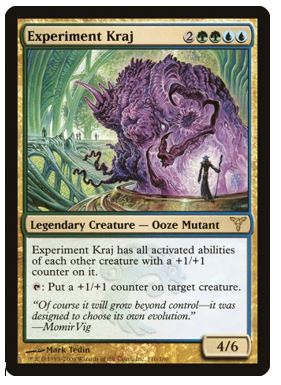 Cards that only work in very specific situations and combinations often aren't that interesting. Wouldn't you prefer something that was versatile, capable of an infinite range of possibilities?
In that case, Experiment Kraj is the one for you. It gets the activated abilities of any creature as long as it has a +1/+1 counter on it. It's not limited to creatures you control, either – it applies to all creatures, including those your opponents control.
There's simply so many different things you can do with Experiment Kraj and so many different combinations you can get. Plus, there's a bit of unpredictability involved, especially if any of your opponents are doing things with +1/+1 counters.
Phelddagrif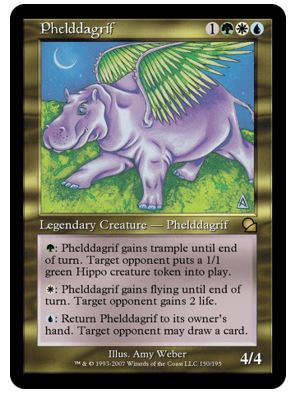 Phelddagrif is one of our favorite cards for playing politics in MTG. Not only is it funny-looking, it's also absurdly fun to play.
Your opponents aren't as likely to be put on edge by it, unlike particular Commanders such as Najeela, the Blade-Blossom. That's because, for each activated ability you use, Phelddagrif must also confer a benefit on one of your enemies.
Since it has three different activated abilities, Phelddagrif is also versatile. You're able to pick and choose which one is most valuable to you depending on different situations.
Atla Palani, Nest Tender
Atla Palani, Nest Tender is fun for sort of the same reason Experiment Kraj is; Atla Palani has an element of surprise. She creates defender eggs and when those eggs die, you get to reveal cards from your library until you hit a creature, which gets put onto the battlefield.
There are tons of creatures in the game that normally deter players due to their mana cost. Atla Palani is the perfect Commander for utilizing those cards, since she basically lets you cheat them out fairly consistently.
Yidris, Maelstrom Wielder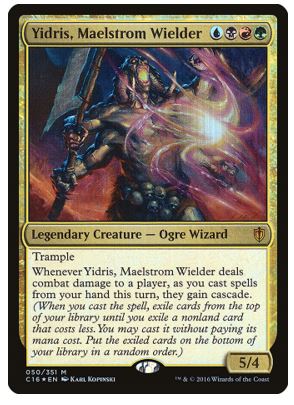 You may have noticed a trend with some of the previous Commanders on this list: they often have some element of unpredictability. This is certainly true with Yidris, Maelstrom Wielder, too.
Once you do combat damage to someone, spells you cast afterwards gain cascade until the end of your turn. Cascade is a keyword that allows you to exile cards from the top of your library until you come across a nonland one that has a lower mana value, which you can then cast for free.
Put simply, Yidris gives you free casts. It's kind of like a BOGO deal with him – for each spell you cast, you'll get a free one. Just make sure you find some way to ensure Yidris's combat damage can always get through to your enemies.
Wort, the Raidmother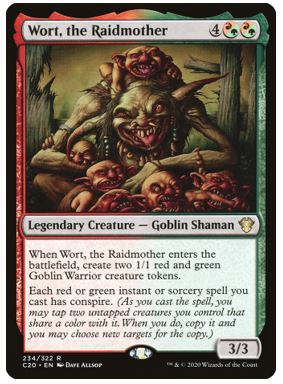 This one's kind of a weird one, but she's a great Commander when it comes to entertainment value. First, she'll give you two red and green goblin tokens whenever she enters the battlefield – certainly not the strongest ability, but not something we'll ever turn down, anyway.
It's her second ability that makes things interesting. Be sure you cast lots of instants and sorceries with her, because she gives all red or green instants and sorceries conspire. You can tap two creatures you control that have at least one color in common with the spell you cast, and then you get to copy the spell.
Fortunately, Wort makes two red and green goblins when she comes out. That's quite fortuitous in this case. Combine her with something that copies your tokens or something that interacts with enter the battlefield abilities (like Panharmonicon) and you'll have no shortage of creatures to conspire with.
Brudiclad, Telchor Engineer
Generally speaking, individual creature tokens aren't very strong. With Brudiclad, though, that can definitely be changed.
In a nutshell, Brudiclad makes a 2/1 artifact creature token on each of your turns and allows you to transform all your tokens into a copy of another token you have. Best of all, there isn't a timeframe listed for the copy effect on the cards; your tokens effectively stay copies of whatever other token you choose for as long as you want them to be.
There are some pretty nasty tokens out there for you to copy. One example is the 20/20 indestructible creature token made by Dark Depths. But it doesn't even have to be a creature; you could, for instance, turn all your tokens into treasure tokens if you needed some additional mana to pump into a huge spell. With cards such as Walking Ballista or Crackle with Power, extra mana can be extra devastating.
Rin and Seri, Inseparable
They say cats and dogs aren't supposed to get along, but Rin and Seri prove otherwise. With this house pet duo, your mission is to incorporate as many cat and dog spells into your deck as you can. In Naya (red, green, and white) colors, that's surprisingly easy.
As you cast dog and cat spells, you'll create dog and cat tokens. Then you can tap Rin and Seri to deal one damage to any target for each dog you control while you simultaneously gain life for each cat you control.
If that sounds kind of complicated, don't worry – it isn't. All you need to remember is that you want as many cats and dogs as possible in your deck.
Feather, the Redeemed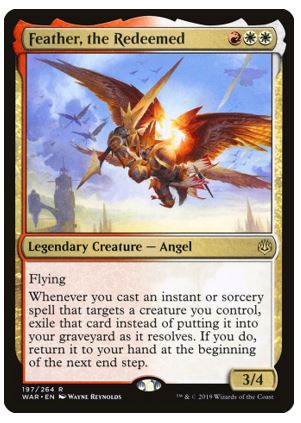 The problem with instants and sorceries is that normally they're only good for a single use. Normally. Feather, the Redeemed defenestrates that concept by basically allowing you to cast your instants and sorceries over and over and over and over again.
What's more, at the time of writing this article, Feather's fairly affordable. If you're on a strict budget, you could probably make an interesting budget EDH deck with him.
Reaper King
Are you a fan of all things spooky? Is Halloween your favorite time of the year? If you answered yes to one or both of those questions, then Reaper King is the Commander for your next EDH deck.
Not only is he a creepy scarecrow, but he's also five-color. This means you'll have plenty of options to tap into as you build around him.
Reaper King is essentially a scarecrow lord. He buffs all your other scarecrows, and as the twisted cherry (or should we say pumpkin?) on top of the sundae, he will allow you to destroy any permanent for each scarecrow you play. Truth be told, there aren't currently a lot of scarecrows in the game, but you can throw in some changelings to fill out your ranks.
Read Next: Best Commanders for a Horror-Themed EDH Deck
Thrasios, Triton Hero and Vial Smasher the Fierce
It's possible we're cheating by including Thrasios and Vial Smasher together, as they're technically two Commanders. Since they both have partner and are often partnered with each other, however, we're going to count them as one in this list.
Another disclaimer we probably need to make is that, although we said we weren't specifically focusing on powerful Commanders, Thrasios and Vial Smasher make an absolutely deadly pair. Additionally, they're a blast to play.
For one thing, they give you access to all mana colors except one. They're also both extremely useful Commanders. Thrasios will let you put additional lands on the battlefield or draw cards, and Vial Smasher lets you smash your opponents in the face with damage randomly.
They combine to make a complicated deck, so we can't really recommend this pairing for beginners. If you're feeling daring and you don't mind irritating other people at the table, though, this pair is fun to build with.
Zada, Hedron Grinder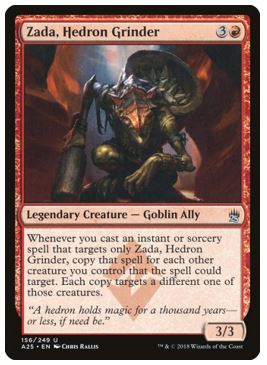 Zada, Hedron Grinder is an excellent Commander for those feeling, shall we say, a little spicy. In short, Zada turns every instant or sorcery you target it with into a blanket instant or sorcery that is applied to all other creatures you control.
So, you buff Zada, and you'll likely buff every other creature you have on the battlefield. That's what we call getting the most bang for your buck.
The downside is that he's mono-colored, which does limit your options a bit.
Rashmi, Eternities Crafter
In some ways, Rashmi is like a card with Cascade. After you cast your first spell on any turn, she gives you the possibility of getting to cast the next spell in your library for free – provided it's less in mana value than the first spell you cast.
If it's not, though, you just get to put the spell in your hand. That's not a bad deal, either; card draw is always a good thing…unless you're playing against a Nekusar, of course.
Grenzo, Dungeon Warden
You can make some amazing decks with Grenzo, Dungeon Warden, especially if you have a solid mana base and ramp quickly. That's because, the more mana you're able to pump into Grenzo, the more counters he'll come out with and the more creatures you'll get to put on the battlefield for a mere two mana.
This means you can play him a couple different ways. One option is to simply cast him for his base cost, in which case he'll enter the battlefield with a power and toughness of two. You can still get free creatures, though, by ensuring as many other creatures in your deck as possible have power stats of two or less (which is fairly easy in, say, goblin tribal).
The other option is to put some beefy creatures in, then make sure you're able to pump a lot of mana into Grenzo when you cast him, so he has as many +1/+1 counters on him as possible. With this strategy, you can easily cheat out some of the most mana-expensive red and black creatures in the game.
Codie, Vociferous Codex
Codie, Vociferous Codex isn't for the faint of heart. We recommend this one for experienced Magic players only, given the unique challenge of not being able to cast permanent spells with this intriguing Commander.
There are a few major benefits to Codie, though: it's five-color, can be used to get access to one mana of each color, and effectively has Cascade. Furthermore, you can use mana of any color to cast Codie, since it only requires generic mana to cast it.
Frankly, however, we included Codie simply for the challenge of building an EDH deck around not having permanent spells and having to make a five-color mana base efficiently.
Lazav, Dimir Mastermind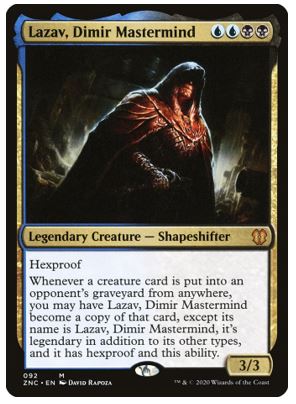 Ever wished you could have one of your opponents' creatures under your control instead? Well, with Lazav, Dimir Mastermind, that's entirely possible. And unlike many other instants or sorceries that make stealing your opponents' creatures a one-time thing, Lazav can repeat it over and over again.
That's because, as you can see, every time an opponent's creature is moved to the graveyard, Lazav can become a copy of it while still retaining his initial abilities. He's a chameleon that can become whatever you want, essentially.
He's a perfect Commander if your playgroup often plays creature-heavy decks. Best of all, his hexproof will help protect him from targeted spells, so he'll be difficult to get rid of.
Wrap Up
Commander should be fun. If you're not enjoying yourself when you play it, then we hope this list of potential Commanders will help inspire you. Have you ever wondered what the worst Commanders would be? Luckily for you, we've made a list of the worst legendary creatures in MTG to answer that question. If you want a good deck-building challenge, try to make a Commander deck out of them that doesn't ignore them completely.