Photo by Patrick Schneider on Unsplash
Photo by Cederic Vandenberghe on Unsplash
Table of Contents
This is going to make us sound terribly old, but back in the day, Dungeons and Dragons was something you played in person with a group of friends. You huddled around a table with stacks of books, sheets, and dice around you, sharing pools of accessories.
Snacks were passed around. People bumped elbows. There would sometimes be palpable tension in the air.
Times change, though, and anything that doesn't change with them gets left behind. Thus, the ways to play DnD have evolved, and this is so important these days with a pandemic raging around us. We can't always meet in person, which is likely a lesson we'll carry well into the future.
If you're looking for ways to play the game socially distantly, then you might have come across the name D&D Beyond. But just what is D&D Beyond?
That's an excellent question. We'll give you a high-level and quick overview of it so you have a basic understanding.
TL;DR Explanation: What is D&D Beyond?
D&D Beyond (abbreviated to DDB) is an online compilation of tools you can use to play the fifth edition of the game. That includes things such as character-building tools, rulebooks, a Discord bot, and even places to save your own homebrewed creations. There's also an app now, too, for players on the move.
It's essentially a virtual hub where you can keep all things related to your campaign, just like those folders and notebooks that used to take up so much space.
See Also: DnD vs D&D: What Should You Actually Call It?
What Can You Access for Free on D&D Beyond?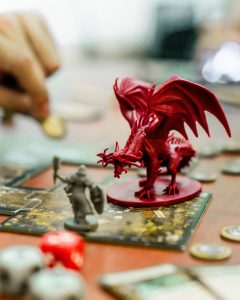 Photo by Clint Bustrillos on Unsplash
DDB isn't a free pass to all the rulebooks that have ever been released. There's a lot of content you need to pay to access, but there's also enough available for you to run your own campaign for free.
All you need to do is create an account. Once you've done so, you immediately have access to the basic rules; lists of spells, magical items, equipment, and monsters; a character-building tool; the ability to create campaigns; the ability to add homebrewed items such as spells; and storage for up to six of your characters.
You can see comprehensive information on their free content in DDB's FAQ.
What Do You Get if You Pay?
So what exactly can you pay for on the site or app? If you look at the site, there's a whole marketplace with an array of helpful items.
For instance, you can pay for access to a ton of rulebooks and expansions. At a glance, we're personally interested in the Guildmasters' Guide to Ravnica, because we'd love to combine our love of Magic: the Gathering and DnD into one game.
Aside from books, you can also purchase different digital dice to roll with, maps, or massive bundles including a mix of useful content.
There are also two subscriptions you can pay for: the Hero Tier and the Master Tier. Both have their own benefits.
The Hero Tier removes all ads from the site, allows you to store an unlimited number of characters, and makes it possible for you to add homebrewed content from other users that's been shared publically to your own toolkit.
On the other hand, the Master Tier gives you all the pros of the Hero Tier with an added benefit: you can share all the content that's available to you with the Hero Tier to any of the players in your campaign. It's sort of like getting a library card that you can share with your players.
Should You Use D&D Beyond?
Your next question is probably something along the lines of, "so what?" Should you be using DDB?
We say give it a shot. There are plenty of fanmade options out there that allow you to play virtually with your friends, but there's nothing quite as organized and smooth as DDB.
Furthermore, there's a bunch of content you can access at no cost to you or your players. There really isn't a reason not to give it a try.
See Also: Tips for How to Start a Roleplay Conversation in DnD
Wrap Up
We're not personally playing a DnD campaign at this point in time, but when we do again, we might give DDB a shot ourselves. It looks like a great way to keep everything you need together in one place without taking up physical space in your home.
Anything that keeps us from losing more character sheets, dice, and writing utensils is worth a try. If you'd like to take a look at DDB, you can visit their homepage for your own personal investigation.